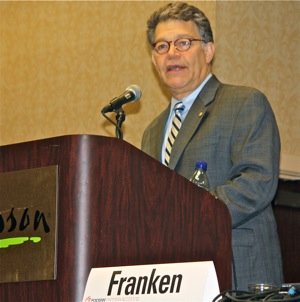 An Open Internet: The Last, Best Hope for Independent Producers – Monday, March 13, 2011
Net Neutrality has been an ongoing issue, one that Senator Al Franken has embraced full force. At SXSW Interactive 2011, Senator Franken started Monday, March 13 with his signature sense of humor laden with highly unsetting information about the future of our internet.
This audience was much more accommodating than those on the floor of the Senate or lobbyists for Comcast, and Franken took full advantage of this and the power that each individual in the audience has but may not recognize.
"I came here to warn you that the party may almost be over," he said. "There is nothing more motivated than a corporation that thinks it is leaving money on the table. They are coming on the internet and wanting to destroy its freedom and openness. All of this is bad for consumers but an outright disaster for the independent creative community." [Read more…]