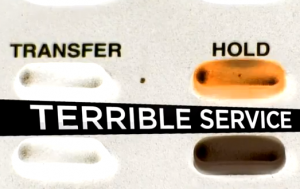 Remember when "Military Intelligence" was the oxymoron joke of the day? Over the years customer service has become the new king of a contradiction in terms. So much so that CNBC is presenting a new documentary on Thursday, January 5 (9pm ET, check your local listings), "Customer (Dis)Service," which "takes viewers right to the heart of the new global battlefield, where the customer and the corporation are at war…rapidly expanding corporations are looking to cut labor costs, outsourcing their customer service departments to the other side of the world. Face-to-face time between business and consumer is practically non-existent, and customer satisfaction has declined dramatically. Are the corporations at fault for putting their bottom line ahead of customer satisfaction, or are consumers demanding too much from the corporations?"
Yes, there are always two sides to the coin. When I first started out in the corporate world, I started in customer service. I spent five years there. So I know all too well that some customers thrive on being difficult. At the same time, as is stated above, there is a clear level of indifference within organization when it comes to the management of their customer service departments, and in the policies and training of customer service staff. I've experienced it first hand. Numerous times.
Here's a quick run down of just three over the past year.
T-Mobile
I have to say I USED TO LOVE this company and their level of service. I'm not sure what transpired in the last two years, but today, they are mediocre at best.
December 2010 – Bought the new MyTouch 4G smartphone. Loved the cool apps and the photography capabilities – but after an hour or so of runtime, if I received a call I couldn't answer the phone. It would freeze up. Yeah. So…I traded it in for a replacement – four times. It was the definition of insanity on their part, doing the same thing over and over and expecting a different result.
August 2011 – Eight months later and many hours logged with their technical support (including the suggestion of adding an app that lets me answer the phone, that was hilarious), they sent me a 3G Samsung Vibrant that had been on the market for over a year. A lower-grade phone that I still have but am considering trading in for an iPhone 4S with Verizon, which will require a $200.00 contract cancellation fee with T-Mobile.
Adding fire to the flame is the fact that this company slows down your data transmission if it gets to a certain level, and at SXSW last year, I had the non-existent level of reception that AT&T users like me experienced in 2009. I need my phone to do my job. If it doesn't work, if the network doesn't work the way it needs to, I'll dump it. Plain and simple.
Comcast & T-Mobile
October 2011 – Since I was planning on dumping T-Mobile but wanted to keep some time of at-home phone service (which I had with them), I thought I could kill two birds with one stone. Upgrade to Comcast Triple Play, which would actually lower my current monthly bill and enable me to keep my home office number. The transition from T-Mobile is where things went off the rails.
A few days after authorizing the transfer of the phone number, I received a call from Comcast that the order did not go through because of some authorization issue. So I called back a week later and went through the whole process again, scheduling the appointment for the Comcast technical to do the installation.
Waiting on a Saturday, I realized they weren't showing up. Calling in, I found that the order had once again been cancelled along with the appointment. This process happened one more time before a lone Comcast representative, after taking a look at my record and what I'd gone through, took it to corporate for resolution.
December 2011 – Forth time was a charm. I had a local rep in Denver following the case, along with a rep in corporate that worked out a fair billing credit for my troubles. But even during installation, there were still issues down to the wire with T-Mobile letting go of the number and Comcast coordinating with them for the transfer. I received feedback from the corporate rep that my situation had raised a red flag and that they would be looking into their internal process to avoid other Comcast customers from going through the same experience.
I'm not a big fan of the part Comcast is playing in the whole net neutrality saga. But on the service side of things, I have to admit that this company in particular has made great strides in the past few years, after the infamous video of the Comcast technical falling asleep after waiting on hold for an hour at a customer's house, and upped their service support through Twitter and their @ComcastCares handle, thanks in large part to Frank Eliason.
WSS
December 2011 – This is an online shoe store in the Amazon Marketplace and at http://www.shopwss.com. I purchased a pair of shoes from Amazon as a Christmas present, but upon arrival, they were the wrong shoes. The first email I sent was on December 25, and didn't hear back from them until December 28, three business days later. That to me is unacceptable. The email stated, "It seems this item was link to a different shoe under Amazon. You will receive a prepaid return label via e-mail with instructions on how to return shoes." But I didn't receive the return label via email. So the next day I called and got voice mail during their hours of operation, having to leave a message. No return call.
January 2011 – After several emails, another attempt to reach them by phone (again, having to leave a message but with no return call) and a tweet out using @shopwss, which resulted in a generic tweet back with the damn toll-free number to call, I finally received the email with the UPS return label.
This company is a perfect example of complete disorganization, lack of personalized customer service, and lacking in the basics – like answering their customer service line and at the least, RETURNING VOICE MAIL MESSAGES.
On the Flip Side – Wowing the Customer
These were not the only experience of Customer (Dis)Service I experienced this past year, but rather than continue down the negative path, who is doing right by the customer?
Again from personal experience, I would (as many others do) have to take my hat off to Zappos whose motto is "Delivering WOW Through Customer Service." Those on the other line are friendly and knowledgeable. Products arrive quickly, shipping is free and and exchanges are a breeze (in contradiction to my KarmaLoop shopping experience).
The CEO, Tony Hsieh, even authored the book "Delivering Happiness: A Path to Profit, Passion and Purpose, " receiving rave reviews from colleagues and customers alike.
And, the company even has its own Zappo's Insights (www.zapposinsights.com), which provides the "how and what" training and guidance that has made Zappos infamous, enabling organizations to "Engage Employees. Wow Customers."
While this documentary will be interesting in terms of seeing what other people have personally experienced, it hopefully brings about an awareness within organizations to take a hard look at how they are or aren't serving their customers. How they can leverage platforms like Twitter to not only serve customers where they live, but glean data to affect change in policies, training, and an overall improvement in how they can "wow" their customers by putting the Service back in Customer Service, creating fans of their company along the way.
CNBC is encouraging viewers to tweet your Customer (Dis)Service horror story to @cnbc using #customerdisservice.